You decided to work in an investment bank.
But you're in a new world. You don't know what analysts, associates, Vice presidents, managing directors, or senior vice presidents in investment banks do?
You know the names of the positions, but you don't really know what they are. You're confused.
Well, you're not the only one. There are a lot of students or professionals that don't really know the different functions inside the investment banking hierarchy.
So here you go, here are the investment banking titles and what they really mean, and what kind of roles they do inside an investment bank.
Note: The compensations stated here are based on if you are working in a developed city like New York or London. However, you should know that salaries for investment banking positions can beging as low as $70,000 to more than millions of dollars as you scale up. The work hours would, of course, vary day by day. The hours of works stated here are just estimations and just for illustration purposes.
Investment Banking Titles: Analyst
An analyst is the one who does the financial analysis (or credit evaluation) of a company.
His/her goal is to assess the financial health of the company. His output will be the basis of a recommendation to be made by his supervisors, especially the Vice President and Managing Director.
Analysts do all the administrative portion of the deal process. They are the ones who work with financial models, pitch books, and PowerPoint presentations.
His analysis could include ratio analysis, industry highlights, financial modeling, and valuation.
Analysts are the ones at the bottom of the organizational structure of banks.
As an analyst, you'll be the one working the most hours.
You'll have the most workload.
You'll be the one pulling all-nighters more often than other members of the organization.
However, you need that kind of experience. You're still at the start of your career. So don't complain too much about the work.
You need that experience in order to grow yourself as an investment banker.
Analyst's Compensation?
Don't worry. Your effort would most likely always be compensated. There are junior analysts that rack up $100,000 a year.
However, your compensation is largely influenced by the sector you are working on. According to recruiter.com, analysts in the financial and insurance industry tend to earn the most.
Source: Glassdoor
What are the tasks of an analyst?
Preparing financial models
Preparing PowerPoint presentations that will be used for pitching or communicating other things to clients or potential clients
Excel tasks
Call or receive calls
Send or receive e-mails
Random and petty tasks like reproducing reports.
What are the skills needed for an analyst?
Time management
Excel and VBA
Financial modeling
PowerPoint
How do you become an analyst?
First, take up a course in finance- Classroom or Online. Choose a business school that will give you the best exposure to investment banks as much as possible.
A Master's program will improve your career.
Second, you need to have good on-the-job training.
Third, apply, be interviewed, and be hired by investment banks.
What if I don't want to be an associate?
You still have a lot of other opportunities based on the skills you acquired from your bank.
One, you can go to private non-bank companies and be hired as part of the corporate finance division.
If you want to stay within the financial services industry, there are jobs waiting at hedge funds, private equity, and venture capital.
But, if you decide you want to move up the bank's ladder, read on!
How do you get promoted from being an analyst?
Typically, it will take you about three years in that position before getting promoted to being an 'associate.'
However, some banks like Goldman Sachs have accelerated programs of two years.
There are investment banks whose promotions are almost automatic with the passage of time.
About 60-70% of analysts are being promoted to associates in these banks. Some reported Goldman Sachs as being one of those investment banks.
There are investment banks that, however, have tighter guidelines on promotion.
You must consistently meet above-average internal ratings for three years to get promoted.
Those that were not promoted have three things in common: weak modeling skills, cannot work independently and do not demonstrate leadership potential.
What do associates do in an investment bank?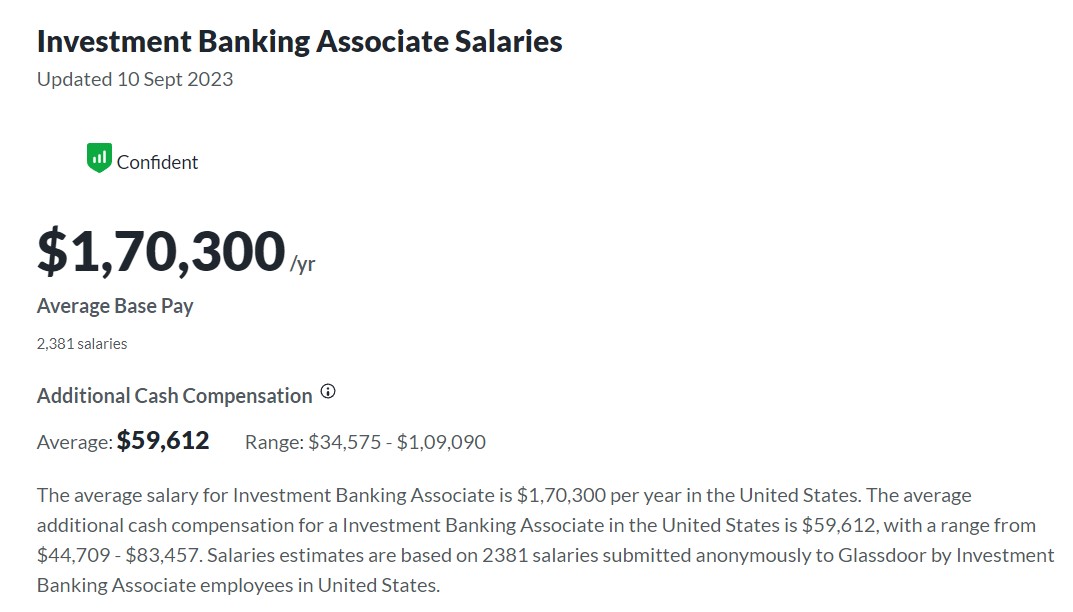 Associates are quite like analysts but are more important.
Associates are the ones who guide the analysts in the preparation of research and visual presentations.
For example, presentations are done by about 75% of analysts. The associates will do the remaining 25% together with the finishing touches.
The associate is the bridge between analysts and executives, like vice presidents and directors.
You will still do financial models and presentations, but you will mostly check the accuracy and correctness of the analysts' jobs.
Once you're on the associate level, you'll attend more pitch meetings and meet-ups with clients.
How long does the associate work every day?
In general, they work quite fewer hours than analysts. But still, they work a lot.
If their analysts work until midnight, associates will probably work only until 10 pm or 11 pm.
But, if you're an associate that is very much driven to rise up the corporate ladder, you will push yourself to work the same (or even more hours) than the analysts.
Usually, the associates are 26-35 years old.
How will you get promoted?
For those promoted to vice president (or any officer role), it took them about five years at the associate level.
But beware; it's a lot more difficult to move from associate to Vice President, than from analyst to associate.
You will need not just expertise in modeling; you also have to show the bank that you are a capable leader.
How you handle your analysts will greatly impact when you will be promoted.
You will also have to show excellent communication skills. After all, as a Vice President, you'll be talking with clients a lot.
You will also be the one to initialize some deals.
Do you have what it takes? Show your bosses.
If you want to get promoted faster, an MBA degree or certification (like CFA) would help.
How to become an associate?
You actually have two options.
First Option: Work your way up from the analyst role. It will take you about two to three years before getting promoted. This is the best course of action because you will have a lot of real-world experience you can use in the associate role.
Second Option: Take your MBA degree then apply for an associate role. This one is rarer than before. You'll get less chance of being accepted than the first option.
What if I don't want to move up to Vice President?
Aside from being a Vice President, you can also move into non-banking institutions in a finance executive role.
There are also exit opportunities at buy-side entities such as hedge funds.
But, if you're the type who wants to be an executive at a big bank, then, the next section is for you.
What do Vice Presidents do in an Investment bank?
Once you become a Vice President, you'll feel that your hard work as an investment banking analyst and an investment banking associate had already paid off.
Tasks will become more interesting.
You'll be working fewer hours.
You'll talk a lot more with clients and will be the ones bringing in the deals (and income!).
You'll get more bonuses of course because you are among the senior bankers' team.
Vice President is almost always promoted from inside the bank. It's rare to find an outsider take on the Vice President role.
So, if you want to get promoted, you must stay in the same bank for years.
Vice President's age is usually 35-50 years.
Vice Presidents guide associates and analysts. Since they are the ones handling the deals, they are also the ones what kinds of presentations will be made by associates and analysts.
They are the ones who have a final call on presentations. They will be the primary persons who will be presenting to clients or possible clients.
How long does Vice President take to get promoted to a Director?
Once you're a Vice President, it will be a lot harder for you to climb the corporate ladder. In fact, less than half of the VPs are promoted to directors each year. Also, your promotion will also depend on how bullish the economy is.
There is not much promotion, mainly because of costs. Maintaining too many VPs is costly for investment banks, especially since VPs require a lot of bonuses.
Thus, there are VPs who are stuck in their position for the entirety of their careers.
However, it's not that bad to be stuck as Vice President, right? After all, you'll get to be paid hefty bonuses.
Plus, you'll get exciting responsibilities since you are the one who brings in clients to your bank.
Also, VPs work a lot less than associates and analysts. If your team works until midnight, you can probably go around 7 or 8 pm.
After all, all the dirty and time-consuming tasks are already being worked out by your team. Your responsibility is mostly on the analysis and communication side of the deals.
What do directors or managing directors do in an investment bank? Can I become one?
Well, directors and managing directors are the ones directing the activities of the bank.
As for the question, if you can become one, of course, you can!
Directors, especially managing directors, are the foremost in terms of bringing in deals, especially the biggest ones.
They are the ones responsible for the billion-dollar deals you see in newspapers. They talk with a lot of external people. Also, they travel a lot.
Some investment banks have some Executive directors on the hierarchy before having the Managing director (Senior Vice President).
The Managing Director oversees all directors (that are below them), all VPs, all analysts, and all associates. There's a lot of stress, for sure.
Their time schedule is flexible and unpredictable. There are times that Directors cannot be seen for a week or so.
They are always out meeting business partners or clients. They sometimes go abroad in order to create deals.
The directors are the ones who meet the topmost executive of every organization.
Your bonuses will be largely affected by the state of the economy.
Confusing new norms of bank corporate titles
Currently, bank titles are causing confusion among applicants and headhunters.
Why? It is because corporate titles are sometimes becoming hideous.
For example, investment banks like Goldman Sachs promote investment banking analysts to investment banking associates in two years instead of three years.
But, in reality, those associates are still doing an analyst's role, just with a few added responsibilities.
On the other hand, fancy titles like assistant vice presidents are introduced by some firms.
But, in reality, these people are still doing the duties of associates.
Some investment banks even use "junior" and " senior " in their associates' positions.
Isn't it an awesome feeling if you're promoted from junior to senior? But still, your job is to be an associate.
Creating two different associate levels is somewhat similar to 'promoting'. Technically, however, you're still on the same level.
In Goldman Sachs, headhunters say the responsibilities of the Executive Director and Vice President are almost the same.
If you come across UBS, you'll discover that there are no associates. They call them associate directors.
Confusing, right? Which is which, is he an associate or director? They also don't have VPs, rather, they call them directors.
Here's more. BNP Paribas in London doesn't have corporate titles at all! Their company identifies its employees based on an internal grading system based on pay and authority.
It's not surprising if it creates confusion both inside and outside the organization.
This scenario has caused a lot of problems, and that's why BNP Paribas has started introducing traditional corporate titles.
As a solution, headhunters judge their applicants based on the number of years of experience rather than a job title.
So, the next time you apply for a job, clearly indicate the number of years you worked and the kind of tasks that you had worked on.
I want to work for an investment bank. What should I do next?
Well, you must first know how to become a financial analyst.
You need to have the right education, the right school, and the right internship in order to get the best job that will suit you.
If, on the other hand, you're confused as to what career in finance to choose, you better check this guide.
Which position do you think is most exciting? Let us know by leaving your comment!