I am excited to share insights on becoming an investment banker in India.
Investment banking is a challenging yet rewarding career path I have been on for several years.
How to become an investment banker in India?

You can immediately become an investment banker post-graduation but you need to have good experience, analytical skills, knowledge and further qualification to sustain it.

To become an investment banker in India:
In this guide to how to create an investment banking career in India, you will learn:
The fundamentals of the hows of investment banking careers.

Starting with understanding the role of an investment banker.

Why it is a fantastic choice in the Indian financial landscape.
How to Become an Investment Banker in India- Actionable Steps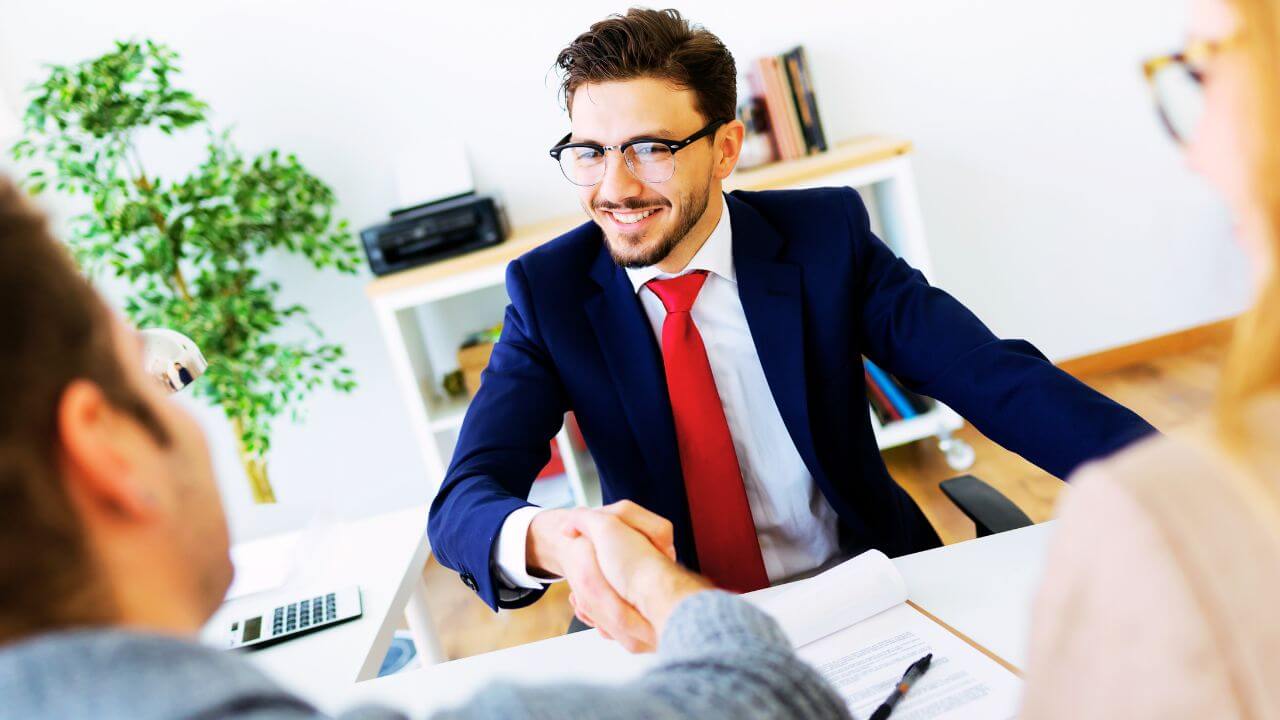 Step1: Understanding the role of an investment banker
As an investment banker, you are like a financial matchmaker, bringing together companies needing capital and investors looking to grow their wealth.
Investment bankers are individuals, experienced professionals, and brokerage firms who help companies, organizations, financial advisors, and clients manage their financial assets.
I remember working on a merger deal where I helped two tech giants join forces.
Seeing how my financial expertise played a crucial role in shaping the business landscape was thrilling.

You will also explore areas like IPOs (Initial Public Offerings), mergers and acquisitions, and raising funds through debt or equity.

It is about analyzing market trends, valuing companies, and negotiating deals.
It can be quite hard to become an investment banker because of the stressful and demanding nature of the profession.
The learning curve is steep, but the knowledge gained is invaluable.
Step 2: Why choose an investment banking career in India
India's financial sector is experiencing rapid growth, and investment banking is at the forefront of this expansion.
In India to become an investment banker, the country's diverse and dynamic economy offers endless opportunities.
Investment bankers act as a connecting bridge between investors and organizations looking for investments.
Take the example of a friend who started as an analyst in an investment bank.
Within a few years, he led multi-million-dollar deals and earned a substantial income.

Moreover, the satisfaction of being a trusted advisor to businesses and helping them achieve their financial goals is incomparable.

You need to interpret financial data and use this information to advise clients on potential investments and financial strategies.

Plus, the skills you acquire as an investment banker are transferable to various industries, making it a versatile career choice.

So, if you have a passion for finance, enjoy challenges, and want to play a pivotal role in shaping India's financial landscape, investment banking could be your calling.
Stay tuned for more tips on how to explore this exciting journey.
Step 3: Education and qualifications
To become a professional investment banker in India, it all starts with your education.
I pursued a Bachelor's Degree in Finance, which laid the foundation for my career.
This degree in financial management and business administration provided me with essential basic finance knowledge and analytical skills crucial in the investment banking domain.
You as an aspiring investment banker must pass your 12th standard exams with a minimum aggregate score of 50% or more from a recognized board or university.
You may benefit more from choosing the commerce stream and studying mathematics, accountancy, economics, and business administration, and computer technology for a Bachelor's Degree.
1. Educational background requirements
I opted for a Bachelor's Degree in Finance, a game-changer.
This degree is like your passport to the investment banking arena.

It equips you with the financial insight needed to navigate complex deals.

I can't emphasize enough how vital it is to choose this path.
2. Bachelor's Degree in Finance or related field
When deciding on my major, I chose Finance because I was passionate about it.
A finance degree teaches you about financial markets, valuation, and risk management – all fundamental in investment banking.
Importance of strong academic performance
Maintaining a stellar academic record is essential.

High grades can open doors to top universities for specialized courses and make you stand out to potential employers.
I made sure to excel in my finance courses, and it paid off in the long run.
Step 4: Specialized courses and certifications
Once you've got your degree, consider taking specialized investment banking courses and certifications to create your investment banking career.
Pursuing the Chartered Financial Analyst (CFA) designation was a game-changer for me.
It's like the gold standard in the finance world, proving your expertise in investment management.
1. CFA (Chartered Financial Analyst)
I decided to pursue an investment banking course- the CFA designation to boost my credentials.
CFAs are highly sought after in various industries beyond capital markets, including but not limited to:
Investment Banking

Management Consulting

Hedge Funds

Mutual Funds

Brokerage

Insurance

Investment Firms
It's a rigorous program that covers everything from ethics to portfolio management.
Those three magical letters after my name gave me a competitive edge in the job market.

The CFA program provides comprehensive and hands-on education in investment and finance.

It covers various subjects, including economics, corporate finance, derivatives, equity investments, alternative investments, financial reporting and analysis, and quantitative methods.

Individuals are eligible to enroll in this program upon completing their undergraduate degree.

The program's duration can vary from one to four years.
2. MBA in Finance
Along with your basic finance skills, another option to consider is an MBA in Finance.
Many aspiring investment bankers take this route to gain advanced knowledge and enhance their career prospects.
Individuals who have completed an MBA finance course specializing in finance are inclined to pursue careers in the investment banking industry at a higher rate. MBA is the most sought-after postgraduate degree.
It is like turbocharging your finance knowledge for career and networking opportunities.
3. Postgraduate Certificate Programme in Investment Banking (PGCPIB)
Another avenue for career development is enrolling in the Postgraduate Certificate Programme in Investment Banking (PGCPIB) provided by the Indian Institute of Management.
4. National Stock Exchange (NSE) Academy
The NSE Academy presents certification programs in areas such as
Financial modeling,

Financial planning

Business analytics, offering valuable opportunities for skill enhancement.
Step 5: Importance of internships
Internship's role: Internships play a pivotal role in your career. They give you a taste of the industry and help you decide if investment banking is your calling in the IB industry.

Securing opportunities: My internship experience helped me secure my first job. The connections I made during that time opened doors I would not have imagined otherwise.

Learning experience: Beyond networking, internships are learning experiences. I remember working on a high-stakes merger deal during my internship, and it was an eye-opener.

Building a resume: Your internship experiences will make your resume. The more relevant internships you have, the stronger your candidacy for both entry-level and top-level positions.
Step 6: Networking and industry research
To become an investment banker in India, start by networking and researching the industry. Attend local finance meetups and join online forums.
I once connected with a senior banker at a seminar, eventually leading to an internship.
Networking helps you understand the field better and opens doors.
1. Leverage LinkedIn and other networking platforms
Create a compelling LinkedIn profile highlighting your skills and ambitions.

Connect with professionals in the finance sector.

I reached out to alumni on LinkedIn, and one mentor guided me through the recruitment process, giving me a competitive edge.
2. Attend industry conferences and events
Attend finance conferences and events to meet industry experts.

At one such event, I met a prominent investment banker who later became my mentor.

These interactions can provide insights and mentorship opportunities crucial for your career.
3. Keep up with market trends and news
Stay informed about market trends and news.

Read financial newspapers, follow website market updates, and subscribe to newsletters.

Being well-informed helped me ace interviews and discussions.

Knowledge is your best asset.
4. Importance of staying informed
Being updated about market trends is pivotal in investment banking.

Once, during an interview, I discussed a recent merger, showcasing my knowledge.

The interviewer was impressed, and I landed the job.
5. Build industry knowledge
Constantly build your industry knowledge.

Read books on finance and investment banking.

Understanding the industry's nuances and principles is essential.

My in-depth knowledge of valuation techniques was instrumental in closing deals.
By following these steps and staying committed, you can pave your way into India's rewarding world of investment banking.
Step 7: Preparing for interviews
1. Research:
Begin by researching the company thoroughly.

When I interviewed with XYZ Bank, I remember knowing their recent deals helped me connect with the interviewer.
2. Practice:
Practice mock interviews with friends or mentors.

Rehearsing common questions boosted my confidence.
3. Crafting a winning resume
Quantify achievements: Quantify your accomplishments. Instead of "Assisted in financial analysis," write "Analyzed $10 million in assets."

Highlight relevant skills: Tailor your resume to the job. Emphasize skills like financial modeling and valuation.

Use action words: Begin bullet points with action verbs. For instance, "Managed a team of analysts."
4. Nailing the investment banking interview
1. Common interview questions
Tell me about yourself: Keep it concise. Focus on relevant experiences, like internships or coursework in finance.

Why investment banking?
Share your passion. Mention any exposure to the field, like my internship at ABC Capital.
2. Behavioral interviews
Describe a challenge: Discuss how you overcame a challenge. I talked about leading a team project under a tight deadline.

Teamwork example: Give a teamwork example. I mentioned collaborating on a complex financial model during a group project.
3. Technical interviews
Financial statements: Brush up on financial statements. I was asked to analyze a company's income statement and balance sheet.

Valuation methods: Understand valuation methods. I had to explain the differences between DCF and comparable company analysis.
Step 8: Securing a full-time role
1. Build strong foundations
Begin with a solid educational background.

My MBA was crucial to gaining credibility in the field of both business administration and analytics.
2. Network relentlessly
Attend industry events and connect on LinkedIn.

I landed interviews through referrals from contacts I made at networking events.
3. Master financial concepts
Step 9: Navigating the recruitment process
1. Customize your resume
Tailor your CV to emphasize relevant skills and experiences.

I highlighted my quantitative analytical skills and internship experience.
2. Ace the interviews
Prepare for technical and complex financial concepts, modeling, and behavioral questions.

I used resource bank websites like Investopedia to brush up on research and financial models and concepts.
3. Show your passion
Express genuine interest in the banking and commerce industry.

I shared how I followed market trends and analyzed stock performance in interviews.
Step 10: Internship to full-time conversion
1. Prove your worth
Deliver exceptional work during your internship.

I went the extra mile and undertook additional projects to showcase my dedication.
2. Seek feedback
Regularly ask for feedback from mentors and supervisors.

I used their input to continuously improve my communication and communication skills.
3. Express your intent
Communicate your desire to join full-time.

I had an honest conversation with my manager about my career goals.
Step 11: Evaluating job offers and negotiating salaries
1. Research market rates
Investigate industry standards for compensation. I compared my offer with similar positions in the market.
2. Consider the total package
Look beyond the base salary. Evaluate benefits, bonuses, and stock options.

I negotiated for a higher average salary and a higher signing bonus.
3. Negotiate professionally
Approach negotiations with confidence and professionalism.

I was respectful but firm in my salary discussions.

Breaking into investment banking takes persistence and dedication.
Apply these steps, and you will be on your way to a successful career in finance, or financial consulting, just like I did!
Step 12: Investment Banker Salary in India
The average salary amount of an investment banker in India can vary significantly based on several factors, including the level of experience, the city in which they work, and the specific employer.
According to Glassdoor, in India, the average annual salary for an Investment Banker is approximately ₹20,31,620.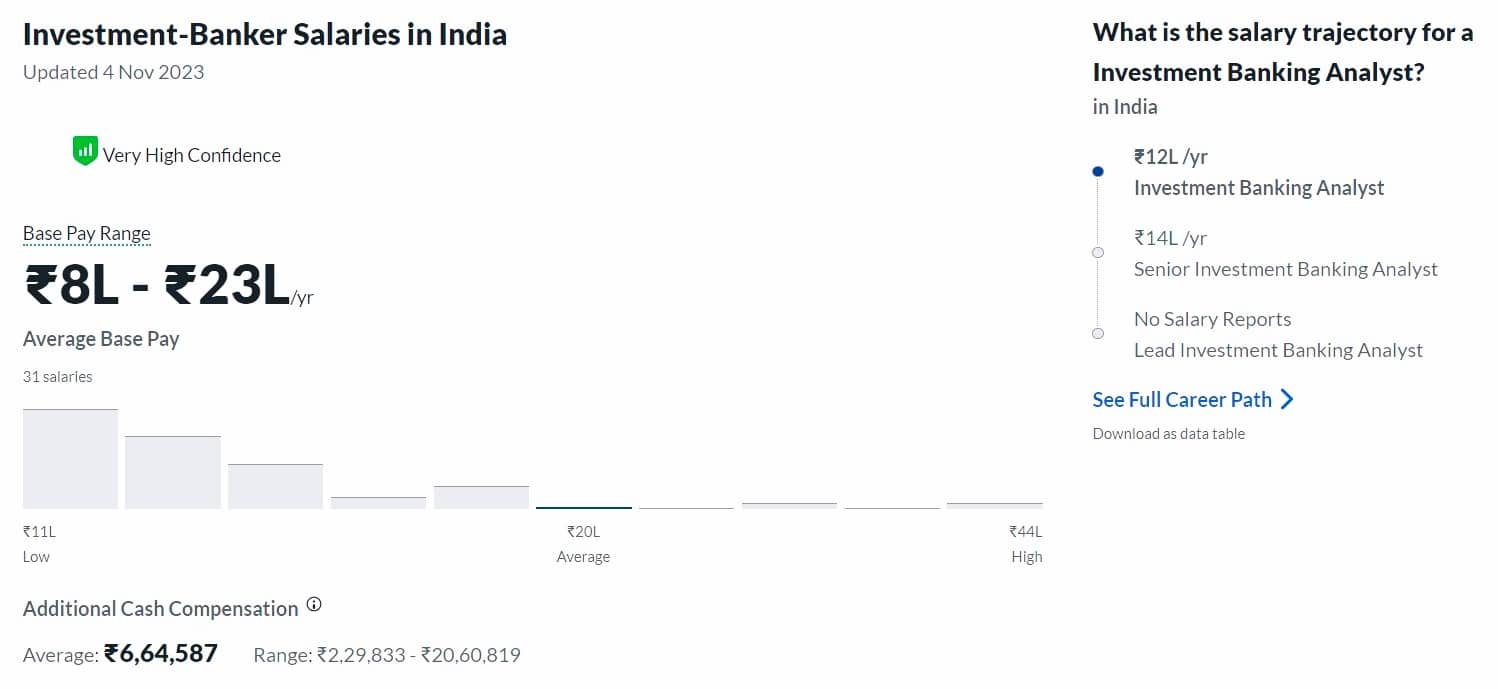 Investment bankers receive an average additional cash compensation of ₹6,64,587 per year, which can vary within a range spanning from ₹2,29,833 to ₹20,60,819.
Step 13: Entry-level positions in investment banking jobs in India
Job security is a hallmark of professional investment bankers, as their acquired communication and analytical skills, and experience often allow them to work from anywhere in the world.
Entry-level positions in investment banking jobs in India include:
1. Investment Banking Analyst
Investment banking analysts are often recent graduates or individuals with a few years of experience.
They play a crucial role in financial modeling, data analysis, and preparing presentations for clients.
Analysts work closely with senior team members and gain hands-on experience in various financial transactions.
2. Intern
Internships are a common starting point for investment banking courses for you interested in investment banking careers.
These internships can be summer internships for undergraduates or shorter-term internships for those pursuing advanced degrees.
Interns support the team with research, data analysis, and administrative tasks while learning about the industry.
Alongside financial training, you may learn to improve your own communication skills, presentation, and negotiation skills.
3. Investment Banker Associate:
Investment Banker Associates are hired after completing an MBA or gaining a few years of relevant experience.
They work on complex financial analyses, do financial analysis, do financial modeling, assist in deal execution, and interact with clients.
Associates are often seen as a bridge between analysts and senior investment bankers.
4. Junior Analyst:
In some brokerage firms though, especially smaller ones, you might come across positions titled "Junior Analyst."
These roles are similar to the entry-level position and top-level analyst positions and involve identical responsibilities, such as financial statement analysis, modeling, and research.
These entry-level investment banking analyst and banker positions will provide the foundational experience and skills to advance your investment banking career in India.
Over time, professionals can progress to higher-level roles with more responsibilities and leadership opportunities.
Step 13: Challenges and Strategies:
1. Master financial basics:
Study financial management and financial management accounting data and concepts rigorously, just like I did during my MBA, to build a strong foundation for my financial planning and financial management.
2. Continuous learning:
Stay updated on market trends, regulations, and new technologies. I dedicated at least an hour daily to reading financial news.
3. Overcoming gender and diversity barriers:
Confidence building: Build your confidence through knowledge and practice. I overcame my doubts by seeking mentorship from senior investment bankers.

Assertive communication: Practice powerful communication. Feel free to voice your ideas in meetings, like when I pitched a successful deal.

Advocate for diversity: Encourage workplace diversity and inclusion actively. I joined diversity committees to make a difference.
5. Handling work-life balance:
Achieving work-life balance can be challenging in investment banker jobs, as the work often demands constant readiness and availability throughout the day.
Set boundaries: Define clear work-life boundaries and stick to them. I ensured to disconnect during weekends to recharge.

Time management: Prioritize tasks and delegate when needed, just like I did when handling multiple deals simultaneously.

Self-care routine: Develop a self-care routine to manage stress. I practice yoga and meditation to stay balanced.
Top 10 investment banks in India entry-level positions and eligibility criteria
Globally, leading investment bankers at investment banks such as Morgan Stanley, Bank of America, Goldman Sachs, and JP Morgan Chase maintain a continuous demand for qualified aspiring investment bankers throughout the year.
Your key goal is to raise the required funds for operations and growth, make investments to assure financial security, and improve the overall financial portfolio of the company.
You advise companies about issuing securities in capital markets, managing initial public offerings, and setting initial stock prices.
Beyond the prominent top ten investment bankers, banks, and banking institutions, private equity securities, venture capital firms, hedge funds, and equity firms also actively recruit top investment bankers as other banking professionals.
Top 10 investment banks in India entry-level positions and eligibility criteria:

| | | |
| --- | --- | --- |
| Investment Bank | Entry-Level Position | Eligibility Criteria |
| Goldman Sachs | Analyst | Bachelor's degree in finance, economics, or related field Strong analytical skills Preferred: Prior finance internship |
| Morgan Stanley | Analyst | Bachelor's degree in finance, economics, or related field – Strong academic record – Relevant finance internships |
| JP Morgan Chase | Analyst | Bachelor's degree in finance, economics, or related field – Strong analytical and communication skills – Finance experience a plus |
| Deutsche Bank | Analyst | Bachelor's degree in finance, economics, or related field – Good academic performance – Advantageous: Finance-related internships |
| Citibank | Analyst | Bachelor's degree in finance, economics, or related field – Strong quantitative and analytical skills – Relevant finance experience |
| Barclays | Analyst | Bachelor's degree in finance, economics, or related field – Good academic standing – Preferred: Finance or related internships |
| Credit Suisse | Analyst | Bachelor's degree in finance, economics, or related field – Strong problem-solving and communication skills – Finance internships |
| HSBC | Analyst | Bachelor's degree in finance, economics, or related field – Strong academic record – Advantageous: Finance or related internships |
| Kotak Mahindra | Analyst | Bachelor's degree in finance, economics, or related field – Strong analytical and communication skills – Finance or banking internships |
| ICICI Securities | Analyst | Bachelor's degree in finance, economics, or related field – Good academic performance – Relevant finance-related experience |
Frequently Asked Questions
What are the working hours and work-life balance for investment bankers in India?
Investment banking in India often involves long working hours, especially during deal-making. Investment bankers work well beyond the standard 9-to-5 schedule, including weekends and late nights.
Achieving a work-life balance can be challenging, but it varies depending on the specific role and company culture.
Are there any regulatory or licensing requirements for investment bankers in India?
Yes, there are regulatory requirements in India for professionals working in financial services, including investment bankers.
To practice legally, individuals may need to register with various financial regulatory agencies or authorities, such as the Securities and Exchange Board of India (SEBI), and obtain necessary licenses or certifications, depending on their specific roles and responsibilities.
What are the typical career progression paths for investment bankers in India beyond entry-level roles?
Beyond entry-level positions, to become an investment banker in India, you can progress to associate, vice president, director, and managing director roles.
The career path often involves taking on more significant responsibilities, managing teams, and focusing on higher-value transactions.
You can also operate as a freelance Investment Banker for a variety of companies and organizations.
Some individuals may also transition to private equity, venture, capital markets, or corporate finance roles as they gain experience and expertise.
My Exclusive Insights for You
In conclusion, becoming an investment banker in India is a challenging yet rewarding journey that requires dedication and a strategic approach.
To be successful on this path, aspiring individuals should follow actionable steps:
Education: Start by pursuing a bachelor's or master's degree in finance, economics, or a related field.

Gain knowledge: Continuously enhance financial knowledge and stay updated with financial analysis, business management, and industry trends.

Internships: Secure internships or entry-level positions at financial institutions to gain practical experience.

Networking: Build a solid professional network in finance management accounting.

Professional qualifications: Pursue relevant certifications like CFA or MBA to raise capital and enhance credibility.

Specialization: Choose a niche within the investment banking industry, such as mergers and acquisitions or asset management.

Apply: Submit applications to top investment bankers and banks and be prepared for rigorous interviews.

Persistence: Stay persistent, as success in this competitive field often requires resilience.
By diligently following these steps, you can increase your chances of realizing your career in the investment banking industry in India.
Suppose you want to know whether becoming an investment banker is in your Inner GPS or not then you can sign up for our Inner GPS Career Coaching and get absolute clarity. 
If you have any more questions, you can comment below.